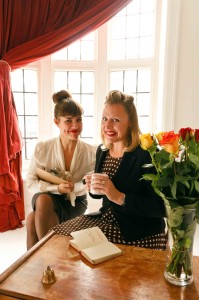 A new micro project emerged from its chrysalis this Sunday the 29th as part of Brighton's wonderful White Night celebrations. A co-production between Stillpoint, Emma Kilbey and the Nightingale Theatre, the Department of Unreliable Memoirs is an intimate encounter for one audience member. It invites you into a little world of shifting memory, secret lives and mischief.
In celebration of the lifting of the Ban on Dubious Facts, The Dept of Unreliable Memoirs has recently reopened its Brighton bureau! Make an appointment with our helpful hostesses to retrieve a half forgotten moment, from a past you may well have had.
We had a wonderful night, chock full of appointments, with many rediscoveries and much hysterical laughter as the clock ticked towards 2am.
If you missed us this time, do keep an eye out, because we will be back with a whole host of fresh memories to revive for you and next time maybe even a momento for you to take home!