Making a new piece of work always feels like starting at the very beginning again. It doesn't seem to matter how many times I've done it before, or how many lessons I've learnt previously. It is always tough, always scary and always new. In a way, I'm grateful for this. I suspect that if it was suddenly a walk in the park, it'd be time to pack it in. Not because of some kind of there-is-no-gain-without-suffering work ethic, but because I don't ever want to take what I do for granted. Making it new each time means I can stay in surprise and wonder, which I sense is vital. Admitting I dont know and then being open to what I might find, is one of the most creative and playful places to begin.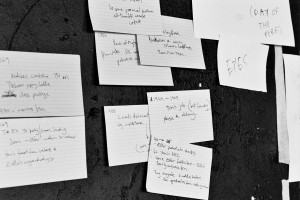 I went to Brighton's mighty Catalyst Club on Thursday night and amongst the brilliantly eclectic mix of topics (ranging from Autism to terrible knitting), I was struck by something in one of the talks. The late – great – chief of mischief, Ken Campbell was quoted as saying that it is far more interesting to suppose about something than to believe in it. It occurred to me that as artists it is our job to suppose about things in a visible/tangible public way. And that by supposing (rather than believing), we are not seeking the answer to a question, or the solution to a problem, but rather, finding a form to open up or invite in the supposing of a thing in the experience of an audience.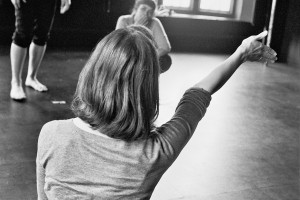 So we have come to the end of our second development week of Moon Project and the date of our first preview approaches at an alarming rate.
Week 1
At the brilliant Nightingale Theatre. An enormous brain dump of nearly a year and half of ruminations and research and an attempt to fight it into some rough shape or other. Fragile fragments of script, scene beginnings, supposings and the beginnings of a movement vocabulary. Our heads hurt.
A huge part of week one was working out not just the what, but the how, because in devising, roles need to be defined and redefined each day, sometimes even more often than that! Our heads hurt.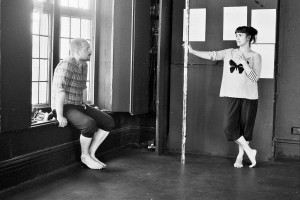 The other performer, Jules Munns and I work well together. We have a boisterous physicality that reminds me of the combative play I used to have with my brothers as children. He is robust enough to be able to catch me if I hurl myself at him and a playful banter makes things smooth and quick creatively. He is also a deft and sensitive actor and generous creative mind. He is patient with my multiple hat wearing and surfs with the twists and turns of the process.
Director Paul Hodson, warm, insightful and with a weight of experience behind his words, drops into the last few hours of each day to see what Jules and I have been brewing. He brings welcome structure and asks the questions we don't think to ask ourselves. I scurry home each night to attend to writing and the endless barrage of administrative duties. Emma Roberts our brilliant Movement Director turns up on the final day for some early investigations. Photographer Greg Allum arrives and quietly snaps some process shots from the corners (which are included here).
Week 2
We decamp to Reading South Street where we are pencilled in to do a showing on the Wednesday night. Genius Emma Roberts takes a day with us where she discovers what are very likely to be the opening moments of the show and a gateway into the expositional bits of the character's back stories. With Emma, we also start to build other core segments of the emerging anatomy.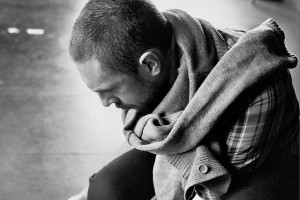 Second day Paul Hodson turns up and we begin to thread pieces of narrative together for the showing the next night. South Street's amazing technician Adrian helps us cobble together a sound design on the hop and has the extraordinary – almost super human – ability, to appear the moment we think we may need something. Lights suddenly appear in the places we are talking about while we are still in the middle of discussing them. Truly amazing. He says it is the thing he loves most about his job.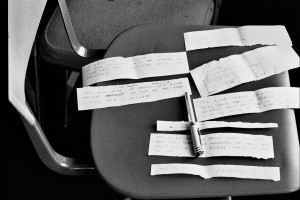 Day three, we are nervous about the showing that night, but have a clear plan of attack from the end of the day before. For better or for worse, Jules and I have come home late from a gig in London the night before. Jules runs a venue called The Nursery who host a lot of improv events and this night was not to be missed in both our calendars. The knock on effect being not quite enough sleep and not quite enough time. But there is never enough time.
Our wonderful wonderful, clear minded and energetic producer, Beccy Smith turns up at 4pm just as we are deciding what can go in and what doesn't quite cut it for the showing. Beccy has this no bullshit knowledge that has been forged from years of making theatre herself that renders her a formidable ground force as a producer.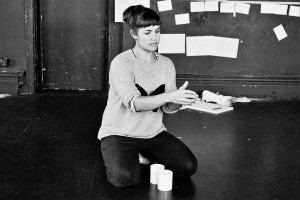 The showing goes remarkably well. We show 20 minutes of emergent, but resonant material to a hungry and intelligent audience, whose questions and comments feed into our next phase very usefully.
We return to Brighton. Say goodbye to Jules and Emma for a few days. Beccy and I get the print out to venues. Paul and I plot and revisit and strategise (Paul has a remarkable ability to order and calm the chaos of my brain). Then we have our first all-hands-on-deck production meeting with stage manager Lloyd Thomas, lighting designer Greg Mickelborough and set and costume designer Pearl Bates. Pearl presents her designs which are looking beautiful. (We'll post shots of her work in the next blog entry). Then we do some interviews with Joe Murray for our promo video which goes better than expected considering how exhausted we all are.
And everybody breathe…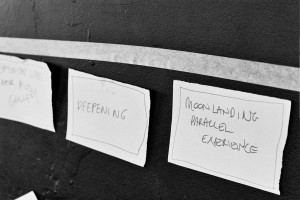 In the midst of all this, there is a litany of physical disasters that might be comic if we weren't all in such a rush: Beccy has a finger jammed under some falling furniture. Then her beloved van gives up the ghost. Then much less catastrophically, though more humiliatingly, in the middle of a day with meetings jammed 8am-7.30pm with out space even for meal breaks, the jeans I'm standing up in split in the worst possible place and scrambling to buy a replacement pair renders me ten minutes late for the production meeting. I bluster into the full room which includes the new stage manager (who I am meeting for the first time) with 'sorry I'm late, I broke my jeans and I didn't want you all to have to see my undies…'.
'Waaay too much information!!' Beccy says and admonishes me with her bandaged finger.
The room is politely silent for a moment.
Then we crack on with it.
And we reach the end of week 2 in one piece, minus Beccy's fingernail and my dignity.
I am struck by how fuelled by the mad venture we all are, applying our hearts and minds to conspire to dream this thing into existence. I feel enormous gratitude for the phenomenal passion of everyone and hope I can do the idea and everybody who rides in her, justice.
And then i guess that brings me back to why supposing is so much richer than believing. Believing is fixed, it already knows. It is a closed circuit. Supposing is open, is it curious. It is fascinated and infatuated. It occurs to me that love or infatuation is the secret ingredient that is binding and raising all this stuff we're cooking together. It is the leavening agent, fizzing away amongst all these other elements. And that feels great. That feels bigger than all of us.
Here's where you can catch the Moon Project in the coming months: tour diary