Stillpoint produces the work of Rachel Blackman with a core team of collaborators and associates. Geoff Hense, Emma Kilbey and Emma Roberts are regular collaborators and Stillpoint is produced by Beccy Smith. We create impactful, thought provoking and formally adventurous devised theatre. Told via a bold physicality, a poetic intimacy, a streak of black humour and the cinema screen in your head, our plays are contemporary parables about the heartbreaking complexities of being human.
The Company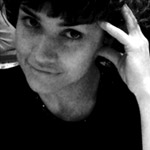 Rachel Blackman Rachel Blackman is writer, performer, actress, theatre maker and Artistic Director of Stillpoint. She brings together the teams that create Stillpoint's work and steers the company's vision.
Rachel trained and worked as an actress in Australia before relocating to England where she is now based. Rachel's work has been produced by Fuel Theatre, The Southbank Centre, Ovalhouse, Camden People's Theatre, Bradford Theatre in the Mill, South Street Reading, Merge Festival Bankside, White Nights and The Nightingale. As well as her award winning work for Stillpoint including four full length pieces and several shorter commissions, Rachel also works as an collaborative artist and consultant on other projects.
Recent projects include Expectations – Roundhouse, London (Directorial Support), Heliosphere – Chroma Collective (Performer / creative consultant), Impulse – Chroma Collective (Performer / co-devisor), Billy Cowie's Ghosts in the Machine, the improvised Katy & Rach (Jibba Jabba Productions), the Ornate Johnson's The Ministry of Biscuits and Mississippi, she also played Charra in Matrix Revolutions (Time Warner, AOL). Earlier solo work, Aperture won best script at the Sydney Fringe Festival for TRS and an ABC Radio National commission.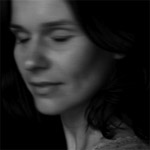 Emma Roberts is a freelance performer, director and Stillpoint associate artist. Emma co-created and directed The Art of Catastrophe with Rachel Blackman in 2007/8. Emma collaborated on the movement score for the remount of Triptych: Three Attempts at Love and was Movement director for Moon Project. Emma has been an influential associate for all of Stillpoint's work.
Emma has trained professionally as an actress and studied physical theatre with David Glass, Dah theatre, Piezan Kozla, and Complicite and has a rich background in dance, with an extensive knowledge in Laban and improvisation. She Emma is an accredited 5 Rhythms teacher and movement therapist and runs classes and workshops nationally and internationally. Emma is artistic director of Shaping The Invisible, an ongoing investigation into improvisation as research and performance language.
For more information on Emma and her work, visit Shaping The Invisible
Geoff Hense
Geoff Hense is a lighting designer, composer, sound designer and production manager and has collaborated on all Stillpoint productions to date, designing lights for The Art of Catastrophe, Steal Compass, Drive North, Disappear and The Growing Room. He is also technical manager for Triptych: Three Attempts at Love. He graduated with a BA in Music (First Class Hons.) from Chichester University and then went on to graduate from an MA Music Design for the Moving Image at Bournemouth University. He is currently Technical Manager at The Arcola Theatre in London.
Geoff has worked extensively with the Brighton International Festival and Edinburgh Fringe Festival, toured nationally and internationally both as a designer and technician and co-founded award-winning venue Upstairs at Three and Ten in Brighton. He has recently worked with Fuel/The Future Is Unwritten's Brighton 'Till I Die, and the Fringe First Award winning Meeting Joe Strummer, The Factory's Boiling Frogs at The Southwark Playhouse and Stewart Lee's If You Prefer A Milder Comedian, Please Ask For One, at the Leicester Square Theatre.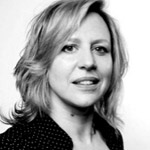 Emma Kilbey Emma gained a BA Honours English degree from Exeter University. After abandoning a career in journalism writing for national magazines and newspapers, she gave in to the little voices and did a post-graduate acting course at Arts Educational. Emma works as a dramaturg, director, performer, facilitator and writer. For Stillpoint, Emma was director for 'Steal Compass, Drive North, Disappear' as well as director and dramaturg for 'The Growing Room'. Emma co-created and performs in The Department of Unreliable Memoirs for Stillpoint that was created with commission money by White Night and the Nightingale Theatre.
Emma's newest original work, The Will of Ayn, a show about the controversial and influential figure Ayn Rand, premieres at Ovalhouse in London in June 2014 and is supported by Bristol Ferment, The Tobacco Factory and the Nightingale Theatre.
For more information on Emma's work visit emmakilbey.com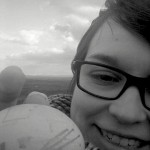 Beccy Smith is Stillpoint's creative producer. She also acts as Producer for Touched Theatre and internationally renowned Karavan Ensemble who create site-specific dance performances in indoor and outdoor spaces. Beccy works as a dramaturg and writer for her own work, specialising in developing original and contemporary visual theatre for and with new audiences, and in work for children and young people. Beccy is also reviews editor for Total Theatre magazine.
Beccy is Co-Artistic Director, dramaturg and writer for contemporary puppetry and visual theatre company, Touched Theatre. Touched developed and produced Brighton's sell out new puppetry night, Punched and was shortlisted for a Total Theatre award for Innovation for large scale installation show Reykjavik and
the twice nationally touring Heartbreak Soup.
For more information on Beccy's work please visit Touched
Other valued Stillpoint collaborators:
Lucy Moore – Producer – The Growing Room and Triptych: Three Attempts at Love
Paul Hodson – Director / Dramaturgy – Moon Project
Wendy Houstoun – Mentor – The Growing Room
Lucinka Eisler – Mentor – Steal Compass
Ella Thompson – Sound Design – Steal Compass and The Growing Room
Ross Gurney Randal – Mentor – The Art of Catastrophe
Jules Munns – Actor / Devisor – Moon Project
Greg Mickelborough – Lighting Design / Production Manager – Moon Project
Lloyd Ryan Thomas – SM / Tech op – Moon Project
Katy Schutte – Actor – The Department of Unreliable Memoirs