SPECIAL SUMMER WORKSHOP FOR WOMEN 🌟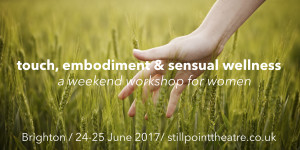 TOUCH EMBODIMENT & SENSUAL WELLNESS
A Workshop For Women
Brighton @ The Studio
24-25 June 2017
10 – 5pm
11 – 6pm
Earlybird rate £100 (pay in full before the Friday 1st May 2017)
full price £130.
Facebook event
A workshop for bringing women home to their own wise bodies.
Medicine for objectification culture, exploring womb, gut and sensory health as keys to self care, libido and wellness.
This workshop will focus on the body as THE primary source of information for us about our wellness and vitality as well as our primary source of clues about our bliss. How to listen to it as a guide and own our own experience of libido, life force and creative expression.
Libido in its deepest and broadest sense is a great teacher. It lets us know when we are depleted and over extended. It tells us when we are being nurtured and when we are not. It connects us to the earth, fire, water, air and spirit inside each of us and is an instant baromometre of preference: revealing like, dislike, disgust, yearning, indifference and bliss.
Getting women in touch with womb, gut and sensory wellness, dissolving body shame and welcoming in self / body value, is key to healing much of what is out of balance in our culture at the moment.
There will be breath-based and somatic meditation practices, including a guided self-mentoring exercise, free and assisted movement, physical games, group, partner and solo work, creative / expressive response time and lots of space for sharing. There will be lots of take home materials that help you come home to (and love) your body as well as helping you grow a healthy relationship with your own sexuality.
We will explore your subjective experience of touch, including learning to feel what you do and don't want and finding language to express your own personal experience. We will explore touch as a tool for expanding postural and emotional range and freedom of physical expression. This workshop offers a whole weekend of practically exploring these, through movement, meditation and touch therapy.
Rachel Blackman is a massage therapist and teacher of somatic wellness. She is also trained as an actor and works as a theatre-maker. She has a special interestest in the body as an intelligent instrument – the transmitter and receiver of all lived experience. She runs a thriving body-work practice in Brighton UK where her focus is on guiding clients towards their own self healing path. She has been working with a group of bodywork and movement professionals researching touch as a tool for catalysing movement for wellness since 2014 and has been facilitating groups for over 10 years.
Rachel will be joined by Alexander Technique teacher and somatic wellness coach Korina Biggs.
In her own journey towards embodiment and self-value, Rachel has worked through anorexia, bulimia, sexual abuse, body dismorphia, self hatred, chronic injury as a result of classical ballet training from the age of 4 – 18 and the inability to orgasm.
The healing quest continues…
BODY INTELLIGENCE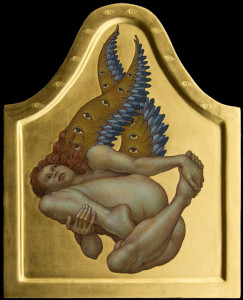 BODY INTELLIGENCE is a body of work bringing people home to the body as a wise instrument.
Draw awareness to physical blocks and investigate choices around them. Wake up the spine, ground through the floor, open up the feeling centres and the subtle body. Learn practical techniques to ground the self in the body, develop your kineasthetic sense and free the body to play. Discover how your body communicates and how other people read you. Includes one on one diagnositic work with Rachel on your unique physicality, investigating new possibilities for being in your body. This work is fascinating, powerfully transformative, relaxing and enjoyable.
This is a movement meditation and movement therapy workshop. It is not a performance workshop, though it greatly benefits performers and anyone else with a body!
This workshop runs over a weekend or over six evenings.
'Thanks for the body intelligence. I'm a different person at work and people have noticed. I would love to do more!' Steve Chapman
'Time spent with Rachel is enlightening, healing and fun, I would recommend her workshops to anyone and everyone' Harry Puckering
'I couldnt beleive the instant, drastic change. It was phenomenal. Absolutely phenomenal'
Jinni Lyons
image – Sacred Body by Robbie Firestone