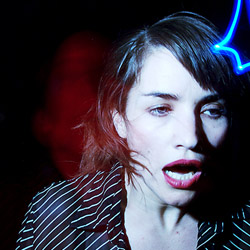 The Art of Catastrophe is a solo performance about a woman's discovery that everything she thought was important, suddenly no longer is, with vibrantly rendered characters and intimate physical language. The Art Of Catastrophe is loosely inspired by the themes in Roland Barthes' 'A Lover's Discourse' and digs its fingers into the uncomfortable territory between romantic love and self delusional disaster.
Helen has a marriage that is falling apart and too much time on her hands.
She has an inconsequential job in a very tall building and no real friends.
Until now she's managed to contain her loneliness using the banal architecture of domestic life
and the endless routine of small addictions, but chaos is creeping in:
Her dreams are crowded with bursting damns and avalanches
and most worryingly of all, her husband, Gary is singing in the shower…
Co-created by performer Rachel Blackman and director Emma Roberts, this piece was developed through the Nightingale Theatre scratch development program and premiered to critical acclaim at the Brighton Fringe Festival in 2008.
The piece was included in the Argus Angel award winning program of work presented to the Nightingale Theatre 2008 and went on to tour key UK venues in Spring 2009.
The Art Of Catastrophe was remounted in 2011 for the Brighton Festival and the Brighton Festival Fringe as part of Triptych: Three Attempts at Love to some wonderful critical responses.
'Blackman is a talent not to be missed. Her work is witty, daring, intelligent and crackling with physical and emotional literacy'
***** Fringe Review

'A performance so open and honest that it leaves a lump in the throat. A beautiful all round piece of theatre by a genuine, skilled performer, deviser and writer.'
Three Weeks *****

'Powerful, highly compelling compelling and genuinely funny'
Oxford Daily Info ****

'Real theatrical beauty. Blackman's ability to fluctuate between stillness and movement, comedy and tragedy and self and other, generates an overwhelming sense of a full and rich world and context, inhabited not just by one performer, but by people possessions, colours and life'
Fringe Review ****
The Art of Catastrophe from rachel blackman on Vimeo.
3 minute trailer.
Melanie Bass