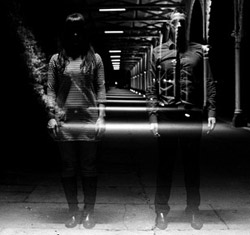 The Growing Room is Stillpoints newest piece of solo performance. It was developed with the Brighton Festival and The Nightingale Theatre and with support from Arts Council England and The Brighton and Hove City Council.
The Growing Room will undergo some further development in Autumn before its premiere in Spring 2012.
Andrea strives to transcend her limitations in order to make something grow, but everything around her seems hell-bent on self destruction: If it's not her daughter, Carla, behaving like there's no tomorrow, then its the economy, rival cultures, global weather systems, in fact, the entire planet seems intent on killing itself. How can she possibly look on the bright side? At least she doesn't have a relationship to worry about. Men are more trouble than they're worth and she's pretty sure Nick is no exception…
The Growing Room is a love letter to humanity's ability to keep hoping even when the odds aren't great. A darkly funny, poetic and poignant piece about how love never comes in quite the shape you ordered.
Inspired by Brian Eno's Reason's for Optimism symposium in the Brighton Festival 2010.
Created and performed by Rachel Blackman with dramaturgy and direction by Emma Kilbey, mentorship from the unbeatable Wendy Houstoun and beautiful lights by Geoff Hense, The Growing Room previewed at the Brighton Festival in the Pavilion theatre on the 25th of May 2011 to a sold out house and positive critical responses.
SUNDAY TIMES PICK of the Brighton Festival and Fringe as part of Triptych: Three Attempts at Love (Alison Thompson)
'The Intelligence and Intuition of creator and performer Rachel Blackman is used to dazzling effect… An abiding image of life in all its messy multilayered wonder. Beautiful.' Nione Meakin, The Argus (May 2011)
The Growing Room tours in Spring 2012 as part of Triptych: Three Attempts at Love